Product Description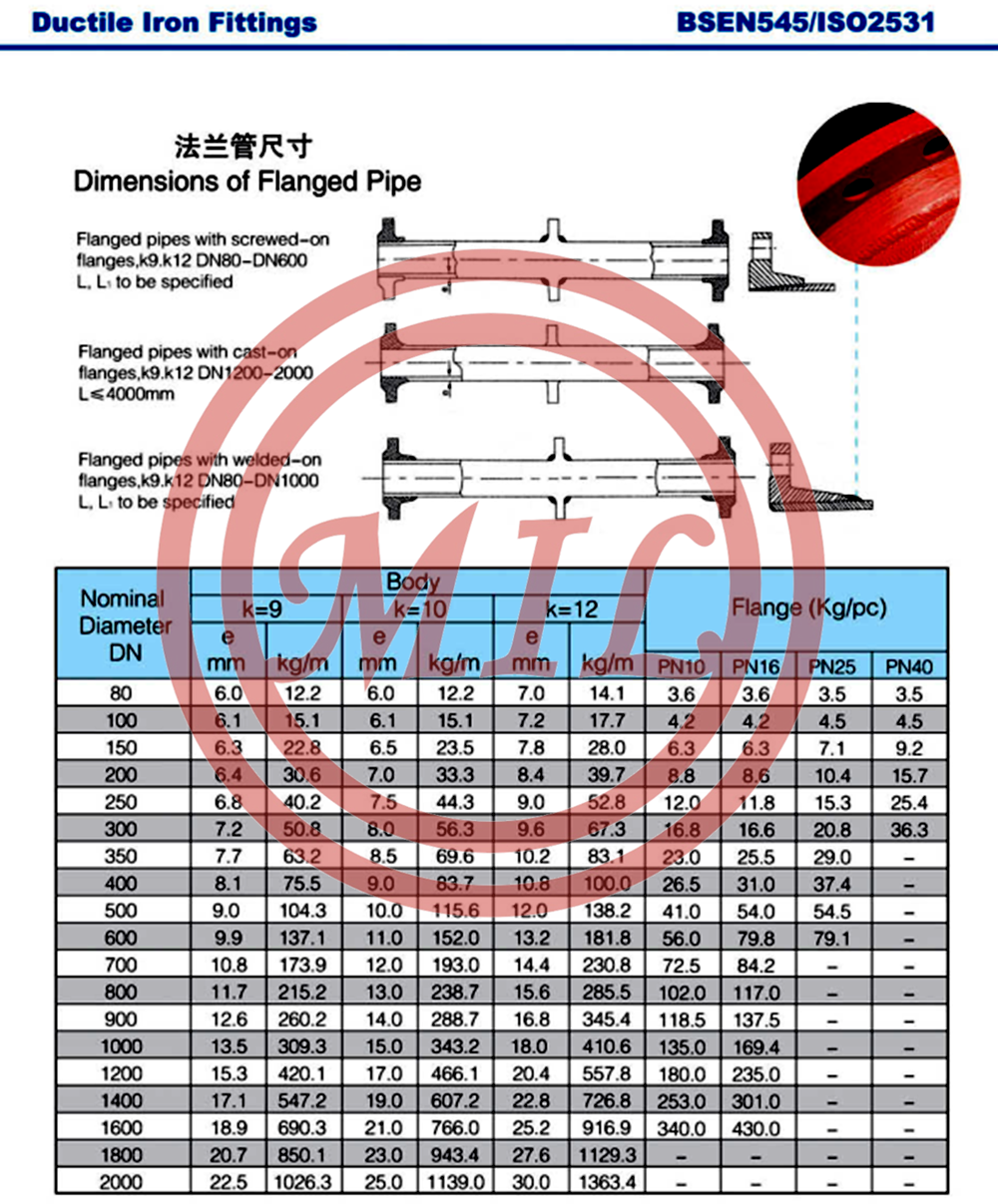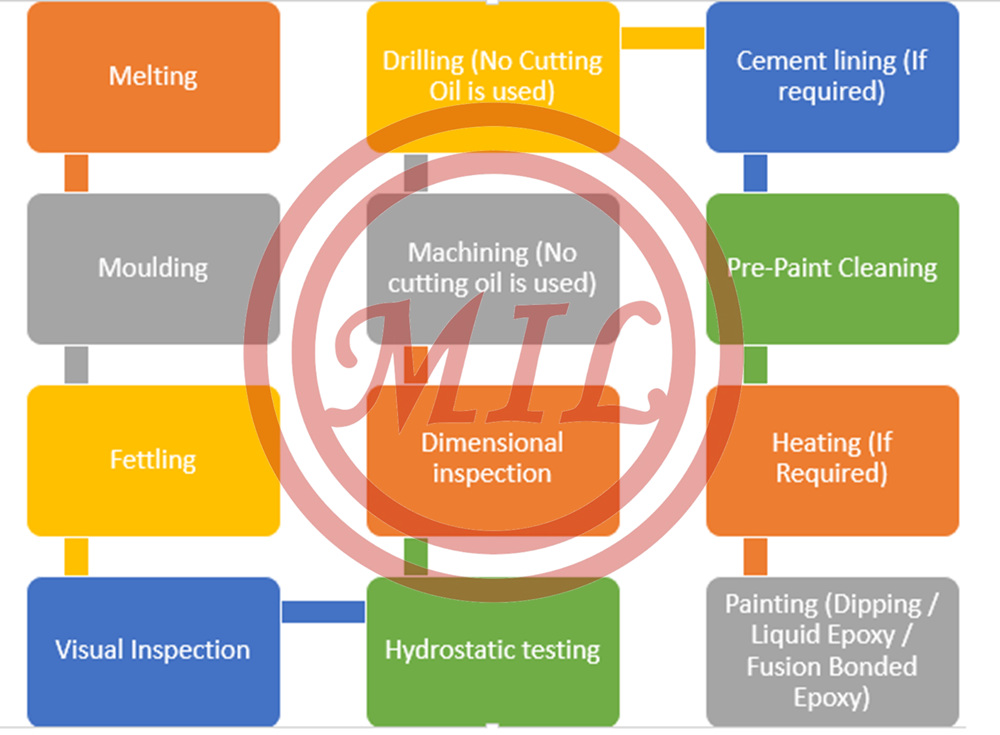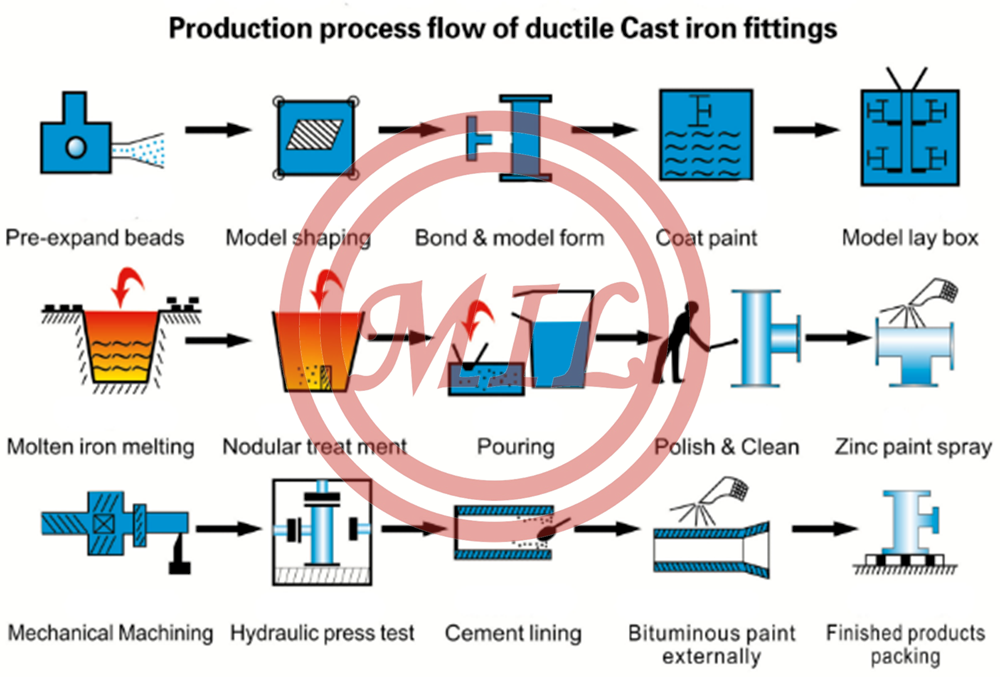 Specification
ISO 2531 Ductile iron pipes, fittings, accessories and their joints for water or gas application
EN 545, Ductile iron, pipes, fittings, accessories and their joints for water pipelines -Requirements and test methods
EN 598, Ductile iron pipes, fittings, accessories and their joints for sewerage application - Requirements and test methods
EN 877, Cast iron pipes and fittings, their joints and accessories for the evacuation of water from buildings - Requirements, test methods and quality assurance
EN 969, Ductile iron pipes, fittings accessories and their joints for gas pipelines - Requirements and test methods
EN 12842, Ductile iron fittings for PVC-U or PE piping systems - Requirements and test methods
BS 4772-1988 Specification for ductile iron pipes and fittings
ISO 7186-2011 Ductile iron products for sewerage applications
ISO8179 standard for zinc spraying
Coating with metallic zinc which contains zinc at least 99.99%. The thickness of zinc coating is not less than 130g/m2
ISO 4179 standard for cement mortar lining
AS/NZS 2280 Ductile Iron Pipes and Fittings

Main technical characteristics: flange joints are rigid joints. Flanges are fixed on either ends of barrel pipe piece. This type of joint can be made in Ductile Iron pipes in three different manufacturing processes. They are:
As Cast flanged pipes: In As Cast flanged pipes the ductile iron pipes with flanges are cast in foundries with integrally cast flanges on them. These flange pipes are normally of very small length say 1 to 1.5 m. They are heavier to handle and one may have to use many pipes for vertical lift and as much extra bolts, nuts etc. This type flange pipes are used for very small lengths.
Welded on flanged pipes: In Welded on flanged pipes the flanges are welded on to the ends of the pipe barrels.
Screwed on flanged pipes: In screwed on flanged pipes both flanges and barrels of DI pipe are provided with female and male threads respectively. The flanges are threaded over the DI pipe barrel.
The jointing of the two flanged end pipes is done by placing gaskets in between the flanges and tightening the flanges with bolts, nuts and washers.
Internal linings:
Cement Mortar Lining - is a dense homogeneous layer covering the entire inner surface of the trunk of the pipe. The mixture of cement mortar contains cement, sand and water. Cement can be of several types depending on the type and chemical composition of the fluid pumped in the pipeline: ordinary portland cement (OPC), sulphate resistant cement (SRC), blast furnace slag cement (BFSC), high alumina cement (HAC). At the same time, the water used in the cement-sand mixture corresponds to the standard set for drinking water. The thickness of the cement-sand coating is for pipes DN40-300 - 4,00 mm, DN350-600 - 5,00 mm, DN700-1200 - 6,00 mm, DN1400-2000 - 9,00 mm, DN2200 - 12,00 mm.;
Epoxy Seal Coat;
Bituminous Seal Coat.
Outside coatings:
Zinc Coating (130 gm/m²² or 400 gm/m²);
Alloy of Zinc and Aluminum with a minimum mass of 400 gm/m².
Finishing protection layer:
Blue epoxy (from 70 to 100 micron);
Redepoxy;
Black bitumen
Special coating:
External and Internal Polyurethane Coating (DN 100 - DN 1600)
International standards: ISO2531, ISO7186, BS EN545, BS EN598, ISO:9001, ISO:14001.
Competitive advantages:
Fast execution of the installation and possibility of reducing the number of fittings;
Excellent behavior in case of earthquake;
Low roughness that determines minimum pressure losses Resistance to corrosion by corrosive waters;
Resistance to corrosion by aggressive soils in most of the cases.
IMPORTANT! The technical specialists of our company are always ready to help you make the right choice of Ductile Iron Pipes taking into account the characteristics of the pumped medium, the working pressure in the system, the specifics of the soil for laying pipes and a number of other important factors that will ensure the durability of the pipeline system built
Product Image